เมื่อคืนนี้ Twitter account ของสำนักข่าว AP ถูกแฮก และถูกใช้ส่งข่าวทำเนียบขาวโดนระเบิด รวมทั้งประธานาธิบดีโอบาม่า บาดเจ็บ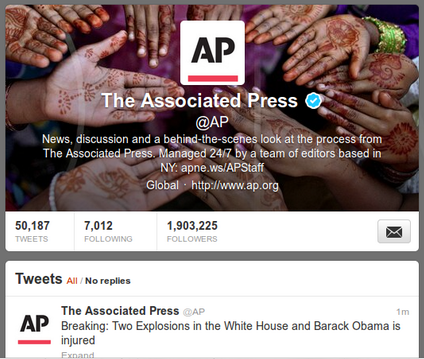 Breaking: Two Explosions in the White House and Barack Obama is injured
ข่าวดังกล่าวทำให้หุ้นสหรัฐร่วงกว่า 150 จุดในช่วงเวลา 7 นาที ก่อนที่จะฟื้นกลับเนื่องจากพบว่าเป็นข่าวปลอม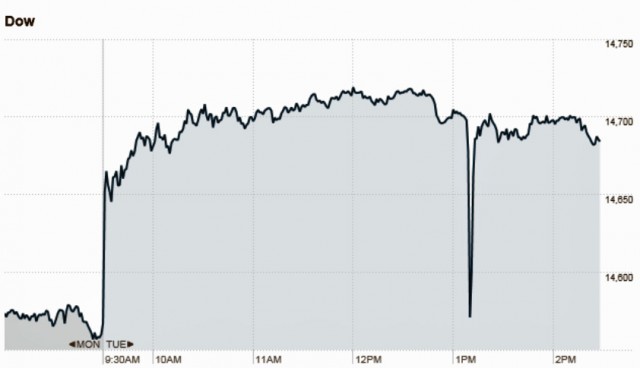 Stock prices plunged and then quickly recovered after a Twitter account belonging to the Associated Press was hacked and used to send a bogus report falsely claiming that the White House had been bombed and President Obama was injured.
"The @AP Twitter account has been suspended after it was hacked," an unaffected Twitter account belonging to the news organization confirmed. "The tweet about an attack on the White House was false."
In a testament to the power that social media has on real-world finances, the Dow Jones Industrial Average fell 150 points, or about 1 percent, immediately following the tweet, with other indexes reacting similarly. The Dow quickly regained the lost ground about seven minutes after the sell-off began, when the AP confirmed that the report was false.
The bogus tweet was sent from one of at least of two compromised Twitter accounts belonging to the Associated Press. Mike Baker, a reporter with the 167-year-old news organization, said the AP's mobile Twitter account was compromised as well. "The @AP hack came less than an hour after some of us received an impressively disguised phishing email," he wrote in a separate Twitter dispatch. In recent days security personnel with the news cooperative discovered malware had infected some of its computers, officials told the New York Times.
An AP spokesman said officials are working with Twitter to investigate how the accounts were hacked. Both accounts were suspended at the time of this writing.
People claiming ties with a group known as the Syrian Electronic Army took credit for the compromise and provided this screenshot, purporting to show user control over the @AP account, as proof. The same group has taken credit for compromises of Twitter accounts belonging to National Public Radio, and the CBS network.
ที่มา: http://goo.gl/IPX5E